India's gates of liberalization were opened in 1991 with the rise of Congress government under the leadership of late P.V.Narsimha Rao and Dr. Manmohan Singh. Political stability is very important as it will influence major policy decisions and the country's economic growth story. The following chart presents GDP Growth in India from 1991-2008.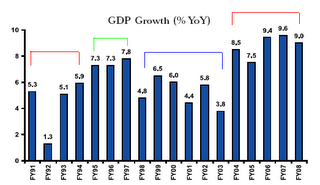 Red Marker – 1991 to 1994 – Congress
Green Marker – 1995 to 1997 – United Front
Blue Marker – 1998 to 2003 – BJP
Red Marker – 2004 to 2008 – Congress
It is clearly evident that under the Congress regime, the GDP growth has been terrific. Policy decisions during their regime in early 90s also pushed the pace of reforms between 1995 to 1997 as well. It is a matter of great concern that during BJP regime the GDP growth slowed down substantially 1998 to 2003. Congress once again revived the economy between 2004 and 2008.
Political Stability and the will to push reforms are an important factor in our Investment Strategy. Can India maintain its GDP growth ? Your views 🙂