We present one of the best data sets to our readers. We are probably the first one to publish BSE Sensex Historical P/E Graph from 1990 to 2008.
In continued quest to educate the Indian investor, a table containing historical returns of BSE Sensex between 1985 to 2008 is being presented. The dataset contains returns of BSE Sensex in the first and second half of respective year followed by full year returns.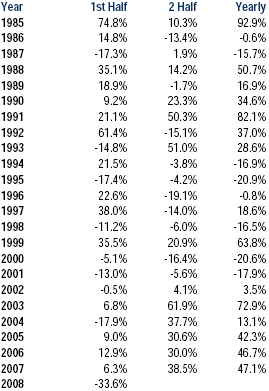 Based on the data compiled in the table above, Rs 100 invested in BSE Sensex in 1985 would be ~Rs 3,500 today [~16% compounded returns]. At the peak, Jan-08, your investment was worth Rs 5,300 [~18.5% compounded returns]. Returns from individual stocks could be much higher. As an investor have you been able to beat these returns in any other asset class ? Feel free to post a comment detailing your investment.
Data Courtesy – Bloomberg.