ICICI Bank Concealed Sub-Prime Facts ?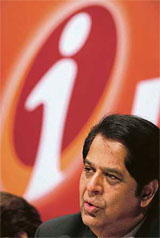 The US sub-prime crisis has hit ICICI Bank. The bank did provide US$75m in 4QFY08 for marked-to-market (MTM) losses on its CDO exposure and the UK subsidiary's investment portfolio. However, the bank concealed further losses it is facing until Minister of State for Finance Pawan Kumar Bansal said in the parliament that ICICI Bank's cumulative MTM losses on its international business are $264m (Rs10.5b), as at Jan end.
CLSA has cut earnings estimate of ICICI by 5-7% for FY08. The bank is still not very clear on its stand about USD 2.2 bn exposure to CDO/CDS. Further MTM losses can be expected.