We continue to receive reports everyday written by institutions who didn't know that they would go bankrupt and it is difficult to filter as we study and only present the best content to readers out here. The US crisis is still far from the end if we look into the ground reality in resolving the issues. However, from past experience, a compromise and equilibrium will be reached.
Doesn't matter, India in a way is fairly secluded and sometime within the next 12 months the de-coupling theory will come into existence and greed will follow. FIIs have not completely exited India. They still hold about 39% of BSE 500 FREE FLOAT. Or they hold 16.7% of BSE 500 Total Market Cap.
ENAM research has done an excellent analysis on how FIIs have bought and sold across the Indian market. We are presenting the excerpts from the same. At the end of Sept-08, FIIs have sold across Banks, Oil & Gas, Financial and Pharma. [I agree they must have sold some more in the first 2 weeks of Oct-08].
FII Holding Pattern in Front line Stocks – Large Cap: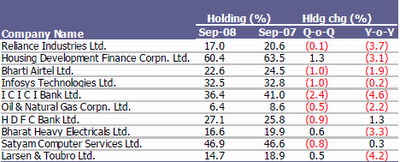 FII Holding Top 15 by Perecntage Stake in Company and FII Holding Top 15 by Investment Value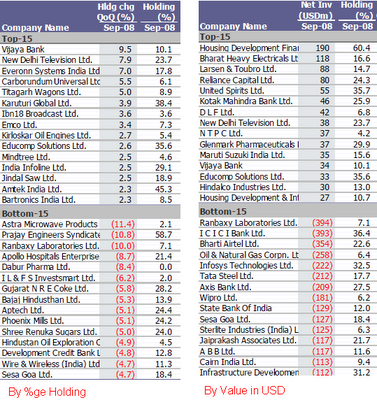 Note: This is at the end of Sept-08.