Over the past few weeks, we have been working on compiling data on FII interest in BSE 500 stocks as they are still the major reckoning force in our market.
After going through various sources, Annual Reports, Company Filings with BSE, etc we were able to mine the data on FII Holding in Indian Equities at the end of Sept-2009 and few other quarters as well.
FIIs Investment in Indian BSE 500 is INR 7549 Bn or USD 168 Bn [Value of their Holding]. The following chart shows how they have invested in various sectors. Industrials and Capital Goods is the most sought after sector by FIIs while it was surprising to know their investment in Indian Banking and Financial is relatively low. Data suggests that FIIs hold 14.15% of BSE 500 while DII hold ~11% of the pie.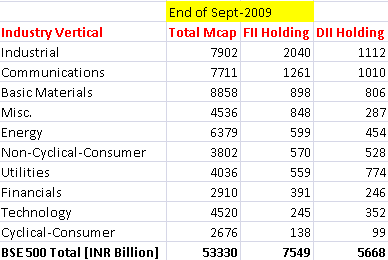 Late last night, I've posted on the Forum about FII's Investment in the following sectors –
The remaining 5 sectors – Utilities , Banking and Finance, Technology, Cyclical Consumer, Non-Cyclical Consumer and Miscellaneous will be covered later today or tomorrow. You can post any questions and comments on the forum where Data is made available.