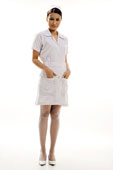 The Apollo Hospitals group today includes over 10,000 beds across 43 hospitals in India and overseas, neighbourhood diagnostic clinics, extensive chain of Apollo Pharmacies, medical BPO, health insurance services and clinical research divisions.
Apollo also has a well diversified presence across the value chain of health care services – Apollo Clinics (to cater to the out patient medical requirements), medical BPO and health insurance services. Tie ups with foreign health insurance companies as a part of medical outsourcing to India and strategies to acquire hospital chains abroad also augur well for the prospects of the company.
Performance Update – Q2 FY 09:
Revenues up 30% to Rs.365cr and EBIDTA up 33% to Rs.62.57cr. Profits grew 28% to Rs.30.13cr. Other income was up substantially from Rs.0.77cr to Rs.5.48cr. Both the business segments reported reasonably strong growth – pharmacy segment registered ~70% growth and healthcare services grew ~22%.
Occupancy rates increased to 82% in the 2nd quarter from 76% in the previous quarter. Pharmacy stores increased to 705. FIIs hold more than 51% stake in the company. Apollo is expected to report an EPS of Rs 25 for FY09.
You can read about Fortis Healtcare and Hospitals review here.