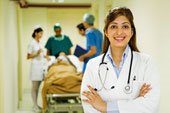 Apollo Hospitals which pioneered the concept of private hospitals in India along with Manipal healthcare [unlisted] is unable to expand beyond Tier-I cities and is facing saturation in its growth momentum. Apollo' s revenue growth in the past 10 years has been steady with sales CAGR of 32% over FY2000-FY2007, and its number of beds has increased to around 8000 from 1500.
Apollo, which contains mostly steady state mature hospitals, has limited upside in terms of growth from existing units. As such, we think the newer hospitals should dilute EBITDA margins in the near term, and hence its expansion plans could impede returns. Apollo plans to add 2164 beds by the end of CY2010, primarily in Tier-2 and Tier 3 cities as the company believes these areas will be the next growth areas. This expansion will dilute EBITDA margins as the new hospitals will take a longer time to turn profitable.
Expect 3-year EPS CAGR of only 3%, although topline CAGR could be 17% over FY2008E – 2011E. On the basis of DCF, Apollo Hospitals should trade a fair value of Rs 458 over the next 12 months.
Fortis Healthcare:
Fortis Healthcare is one of India's largest healthcare providers, with 14 hospitals and 2450 beds primarily in northern India. It has delivered sales growth of 110% CAGR over the past five years.
Fortis plans to expand aggressively, and by CY2011 aims to have 40 hospitals and 6000 beds. To support this expansion plan, the company also intends to increase the number of its doctors to 3500 from 900 and the number of nurses to 15,000 from 3000. Two of its hospitals – Escorts Heart Institute & Research Centre in New Delhi EHIRC), and Escorts Heart Centre (EHCR) in Raipur, Chhattisgarh – focus primarily on cardiac patients are the best known hospitals for cardiac treatment.
Fortis aims to focus its expansion on super-specialty and multispecialty hospitals which typically generate higher revenues per bed and deliver greater operating profits. Fortis may deliver an EBITDA CAGR of 52% over FY2008E-FY2011E on 30% sales CAGR.
Fortis may seem expensive on one-year forward EV/EBITDA of 38.4X vs. global average of 9.6X. DCF based 12 months price target for Fortis is Rs 93.
By 2011 Fortis plans to have 40 hospitals in 15 Indian states with a revenue of $1 bn employing 3,500 doctors and 15,000 nurses with 6,000 beds and ARPB to be at $89,000.
By 2010, Apollo plans to have 10,000 beds with ARPB of $51,000.