IndiaBulls Power – Basis Allotment + Listing
We have been given the Basis of Allotment of the Highly Hyped IndiaBulls Power IPO – Power Hai Tou Zindagi Hey 🙂
As the Retail portion of the issue was subscribed by mere 1.09 times with recommendation from us and other leading brokerages to AVOID, as expected all retail Investors have been allotted in FULL.
Here is the CHART Showing the BASIS of ALLOTMENT of India Bulls Power.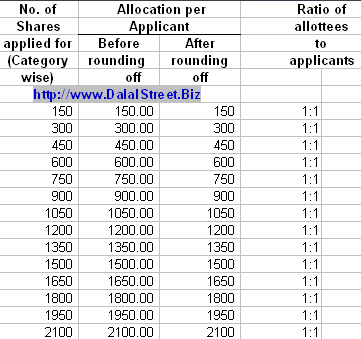 Listing is expected Next Week on 30th Friday and their is NO GREY MARKET PREMIUM on IndiaBulls Power scrip today. SELL on Listing if it is above the issue price of Rs45. You should receive the REFUND by 30th of this Month by ECS / RTGS / NEFT.