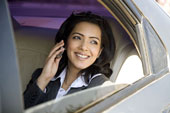 In a surprise move, the government imposed additional specific duties of Rs15,000 and Rs20,000 on cars/ UVs with engine displacements between 1500-1999 cc, and over 2000cc, respectively. There doesn't appear to be a significant economic rationale, as the hike will result in additional excise inflows which are 0.5-1% of the overall excise collections.
The overall impact on end prices will be ~2-3% for cars and UVs, but, when juxtaposed against high inflation rates, high commodity prices and persistently high finance rates, could result in demand displacements over the short term.
In short term, Mahindra is the most vulnerable to a sales decline (Scorpio / Bolero are ~30-35% of overall revenues), followed by Maruti (SX4 is ~4% of volumes, but around ~6-8% of revenues) and Tata Motors (Sumo/Safari are ~3% of volumes and ~5% of revenues).