Suzlon Energy out of current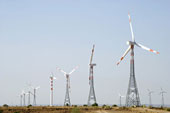 The Edison Mission Group has withdrawn orders of 315 MW (second part of a two-phase 630 MW order) given to Suzlon Energy. This order withdrawal by Edison for 315 MW may affect near-term execution; Suzlon may however replace it by other orders in that geography.
Edison had the option of not purchasing the second part of the contract and it has exercised that option now. No explicit reasons are available for the exercise of the option by Edison. We believe Edison is a large customer of Suzlon (likely among the top 5 with Suzlon having executed (or executing) about 525 MW for this customer. This is significantly bad news for Suzlon Energy.