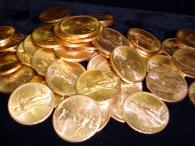 Indian gold demand has been price inelastic, with the bulk of Indian demand being jewellery. But record-high prices and the global recession, coupled with the drought, have kept away consumers this year. Latest data by the World Gold council indicate that India's gold demand stood at 137.6 tonnes in 3Q09, down 49% YoY.
Cumulatively, demand in 9M09 was 264 tonnes, vs. 553 tonnes in the same period last year. This could be due to consumers meeting demand by (1) exchanging old items – exchange activity accounts for 60% of retail turnover in recent quarters. (2) melting down and re-making old pieces, (3) shifting to costume/gold-plated jewellery.
While the jury is still out on whether the current trend seen in India gold demand is cyclical or structural, an interesting trend is that in contrast to the past.
WorldWide commodity experts tell that continued USD weakness, and attempts by governments to weaken currencies will remain the main source of support for gold at US$1,200/oz over 6-12M.
Gold should be brought in the form of GoldBEES or ETF for investment. Do not BUY it from Banks as they don't BUY Back Gold.