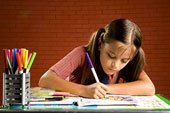 Navneet Publications business has been affected by the sudden entry of state governments into the study material market. Government has started distributing workbooks free of cost (Gujarat and Maharashtra). The government with its social objectives could severely hamper private companies in the education market, we believe this could be restricted to the retail segment – which is currently very small for the major education companies. Further, after a brief disruption, students could return to the products of private companies in order to maintain an edge over others.
A favourable currency movement has helped Navneet's stationery export business grow strongly, making up for the loss in the publications business.
The publishing business forms around 65% of sales for Navneet, with around 28-30% EBITDA margins. A couple of quarters ago, management indicated an expectation of over 10% yoy growth in this business in FY3/09. The remaining 35% of revenues for Navneet are derived from sales of stationery products like notebooks, writing pads, writing materials, etc. Stationery exports have traditionally been a very small component of overall sales for Navneet (~5%).
Navneet's e-learning initiative launched around six months ago has registered 475 schools in these two states and management targets 600 schools by March 2009. The company has also followed this up with the launch of a home-learning package for students.
Navneet has been consistently paying 45% dividend and is trading at a forward P/E of 7 on its expected earnings of Rs 5.7 for FY09. It is very likely that the management may postpone payment of dividend due to the current liquidity crunch.