If you have been a regular reader here, you would have noticed by now that we always believe in "VALUATIONS". Just to enlighten our readers, we are presenting Historical BSE SENSEX Forward P/E Chart from 1990 through Sept-2008. The Forward P/E is quoting at its lowest level ever as shown below.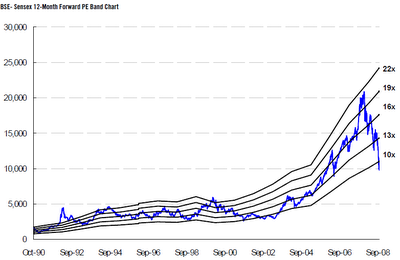 The BSE Sensex Forward P/E was quoting at 18, a year ago. And when it touched 22 in Jan-2008, we cautioned investors by calling it "Absurd Valuations".
Keep Bottom Fishing Now with a 24 Months Horizon. It will take some time for FIIs to de-couple India from the Global Crisis. Keep looking at results and EPS expectations for FY09 and FY10 before averaging any stock or taking fresh exposure.
Chart Courtesy: Citigroup + Bloomberg